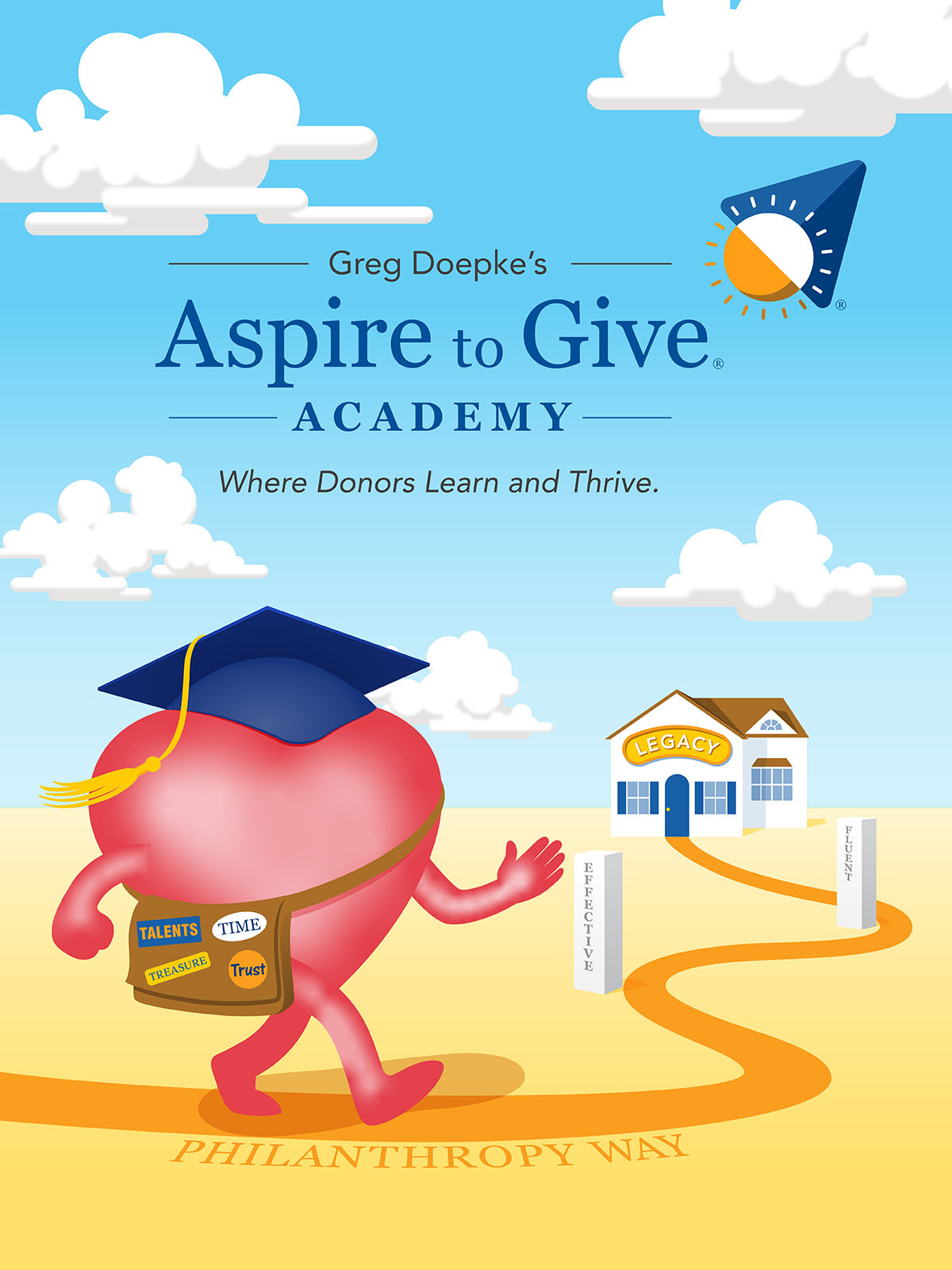 Explore Private & Group
Donor Coaching*
Individual Donors
Networks - Lifelong Learners
Community Groups - Nonprofits
Business Outreach - Professionals
Social Groups - Faith Based Groups
Special Family or Organizational Events


Tailored Coaching to Your Goals
Highly Qualified Donor Coaches
Adds Value to Donor Course Content
Complimentary 30-min Call with a Coach
Group Members Learn & Share Together
* For philanthropic outreach and impact
Aspire to Give® donates 100% of all profits to charity.
Frequently Asked Questions
Is there a cost or obligation to explore private & group donor coaching ?
No, there is no cost and no obligation.
Do I need to be enrolled in a course to explore for private or group donor coaching?
No, you do not need to be enrolled. However, enrollment in the Donor Fundamentals course is highly recommended as a foundation to learn the terminology, the giving process, and the basics of effective giving.
What do I need to do to explore donor coaching for myself or my group?
Please schedule a complimentary exploratory 30-minute video call with our lead donor coach. As part of the scheduling process, you will be asked to submit basic information as intake.
Why is an intake form needed?
Each donor or group has specific goals, interests, circumstances, and giving know-how. The intake form provides the basic information needed to ensure an effective video call.
What is discussed during the complimentary exploratory call?
During the exploratory call, the donor or group representative and coach will discuss goals, needs, circumstances, topics and the coaching options and costs.
What is the cost of private & group donor coaching?
During the complimentary call, the donor or group representative and coach will clarify the intake information. Based on donor or group needs, frequency, and format, the coach will prescribe the tailored coaching options and their cost.
Besides the cost, what is the difference between the Fundamentals Course complimentary coaching and private and group coaching?
The complimentary coaching sessions engage in greater in-depth discussion of course content, related experiential learning, and supplemental resourcing.
The private and group coaching is tailored to the goals, needs, and interests of the donor or group.
What are examples of "Special Family or Organizational Events"?
Examples of special family events may include:
Celebration of 50th Year Wedding Anniversary

Multi-generational Family Reunions

Parent or Grandparent Birthdays

Family Business Celebration
Examples of organizational events may include:
Business celebrations

Nonprofit milestones

Community group celebrations

Local government initiatives and celebrations

Professional association events
What are some of the topics that a donor or group may want coaching for?
During the exploratory conversation, the topics of discussion are identified. Examples of possible topics are:
Personal and Family Philanthropy

How to find and research nonprofits

Discovering giving passions

Meaningful conversations with family, nonprofits, & advisors

Pros and cons of different planned giving tools

Financial and non-financial legacies

What to look for in professional advisors

All about donor advised funds

Impact investing and other leading edge giving tools and techniques

Community development philanthropy

Most any other donor-centric topics !
Do you provide investment, tax, or legal advice?
No, our donor coaches are highly experienced and professionally credentialed that serve to teach, guide, and resource only. Our coaches do not provide any investment, tax, or legal advice. They serve as teachers, guides, and as a resource for the group.
As fiduciaries, we coach to empower donors to be the best they can be with their unique gifts and we always act in their best interests.